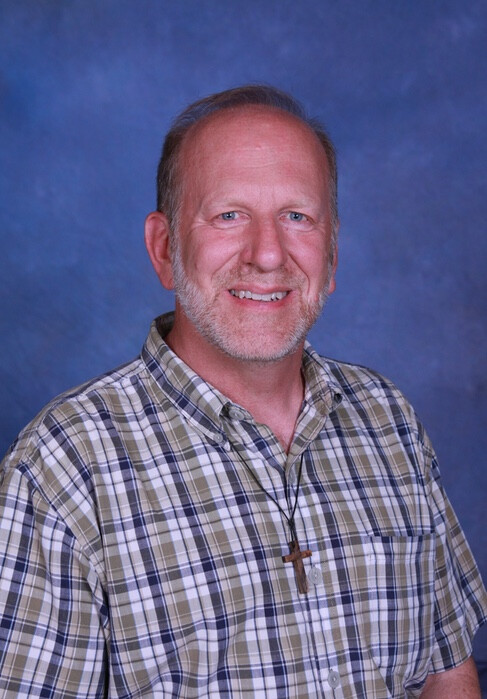 Pastor Bruce Johnson
Lead Pastor
On behalf of Bishop Sue Hapert-Johnson and the Virginia Conference Cabinet, Reverend Robert Bruce Johnson has been appointed to Pender United Methodist Church as its new lead pastor effective June 28, 2023.
Reverend Robert Bruce Johnson (he likes to be called Pastor Bruce) was born in Spokane, Washington and was raised in the the Seattle, Washington area. After receiving a Bachelor of Arts degree in Religion from Northwest Nazarene University (NNU), Nampa, Idaho. He attended Princeton Theological Seminary and later transferred to Nazarene Theological Seminary in Kansas City, Missouri where he graduated with a Master of Divinity degree with a concentration in Historical Theology. It was at Nazarene Theological Seminary that he met and married his wife, Reverend Nancy C. Johnson. After graduation, they moved to Atlanta, Georgia, where he pursued a doctorate degree in Theology with a concentration in Wesleyan studies at Emory University. During this period, he joined the United Methodist Church and became convinced that the parish is an appropriate and needed place to practice theology in the Wesleyan/Methodist tradition. When the opportunity was presented to them, Pastor Bruce and Pastor Nancy moved to Virginia (her home state) to accept an appointment within the Virginia Conference. Within a few years, Pastor Bruce was ordained as an Elder. He has now served as a pastor for the last 27 years in four different appointments in the Virginia Conference.
Fun Facts about Pastor Bruce
He is a lifelong fan of Seattle, Washington sports (don't be surprised if you see him wearing a Mariners or Seahawks t-shirt or cap). Other hobbies include reading, music, singing, walking, and especially spending time with his family. He and Pastor Nancy have two adult daughters, Lydia John, a video photographer with Channel 3 in Norfolk, Virginia and Anna Johnson, a figure skating coach and clinical nutritionist in Lynchburg, Virginia. As a "city-boy," Pastor Bruce is looing forward to urban/suburban life again after spending many years livig i and learning to appreciate rural and small-town Virginia.
For many years, Pastor Bruce walked two to three miles a day with their dog Riley, his "four-legged evangelist." Because Riley is an unusual mix (Corgi and Samoyed), Riley draws a lot of attention from neighbors and strangers. Those long walks have taught Pastor Bruce to welcome the opportunity to make contact with new friends who sometimes became disciples of Jesus Christ.
Passion in Ministry
The most important thing to know about Pastor Bruce is that he is a disciple of Jesus Christ who serves our Lord by helping congregations to become more intentional and effective in disciple-making (Galatians 2:20 and Ephesians 4:12). When Christ s at the center of our shared life, there is no problem that discipleship cannot fix.
Pender United Methodist Church has a rich history and he has been praying daily for the disciples at Pender and for our shared appointment in ministry. Pastor Bruce is excited about hearing from and getting to know the congregation and discerning how together we can fulfill Christ's great mission in our time and place.