How Can I Help?
February 12. 2023 - February 19, 2023
The Hypothermia Shelter opened on Sunday, February 12th. There were 45 guests, which is the maximum number allowed. The guests had a wonderful dinner of baked ham, fried chicken, grilled mushrooms, lentils with vegetables and cornbread. Many of the guests watched the Super Bowl.
The guests were very appreciative of the clothing that was donated - all the underwear and socks have been claimed.

Thank you to all of you who helped set up and make the meal. It's is wonderful to know we have so many people to help the less fortunate in the community.

Please feel free to stop by overnight or in the early morning hours. We still need help with the fire watch and breakfast.

Please contact Jim or Iris Salcewicz for more details.
Please consider volunteering to help during Hypothermia Week. We still need help at the following times:
Set up: February 11 (Saturday) 12 PM – 3 PM — Lunch will be provided

Help tape the Gathering Space floor

Removing tables and chairs in the Gathering Space

Getting supplies ready for the guests

Set up: February 12 (Sunday) 12:30 PM – 3 PM — Lunch will be provided

Wipe and place guests' mats on the floor in the Gathering Space

Check toilet paper and towels in bathroom

Lock doors not being used during hypothermia week

Move coffee bar from the Gathering Space

Get supplies out for guests

Fire Watch — 7 PM – 7 AM

Every evening, we need four people to help with the fire watch. Two people will walk around the building making sure everything is fine. Its an easy job – you just need to stay awake all night.

Breakfast — 4 AM – 8 AM

Prepare, serve guest and clean up after breakfast.

Breakfast will be served at 5:30 AM and guests will leave by 7 AM

Clean up: February 19 (Sunday) – 7 AM – 9 AM — Breakfast will be provided

Clean up Gathering Space

Put supplies away on storage closet

Move coffee bar back to the Gathering Space
A BIG thanks to those who have donated funds and supplies as well as those who have volunteered their time to help during the week.
Pray

Pray for Ministry & our Volunteers

Pray for our Guests

Pray for how you can use your talents to help
Donate

​

Hygiene bags (toothbrush, toothpaste, shampoo)
Backpacks
Gloves
Cold weather hats
Socks & underwear
Volunteer

​

Different shifts available
Training available at Pender
"For I was hungry and you gave me something to eat, I was thirsty and you gave me something to drink, I was a stranger and you invited me in, I needed clothes and you clothed me, I was sick and you looked after me, I was in prison and you came to visit me.
Then the righteous will answer him, 'Lord, when did we see you hungry and feed you, or thirsty and give you something to drink? When did we see you a stranger and invite you in, or needing clothes and clothe you?
When did we see you sick or in prison and go to visit you?
The King will reply, 'I tell you the truth, whatever you did for one of the least of these brothers of mine, you did for me"
~ Matthew 25:35-40
---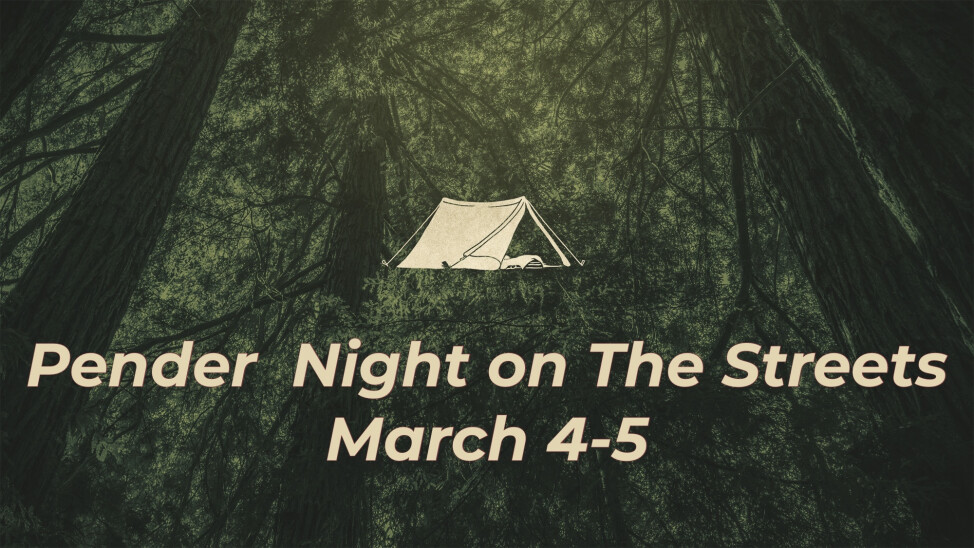 Pender Night on the Streets
The FACETS temporary thermal shelter is coming to Pender UMC from March 27th to April 1st, 2022.
On Friday, March 4th, adventurous teens and adults from the Pender Youth and Scouting groups spent the night out on the church grounds to briefly experience homelessness.
Rev. Will White, Minister Howard Finley, Ken Ferris (Lay Leader), and our scoutmasters accompanied them, while surprise guests appearing periodically throughout the evening.
This band of brothers and sisters did not be enduring long-term poverty—but in a very small way, our Christian Community has chosen to endure a portion of those struggles for one night to facilitate empathy and understanding.