Children's Ministry
Our goal is that all children will know and experience the love of God, and then extend that love to others.
Follow: We want those who are teaching and spending time with children at Pender to be followers of Jesus, who then teach children how to also be followers.
Reach: Our desire is for God to reach your child in a unique and meaningful way. This may come through some of our various Children's Ministry events and activities, or through the loving community of Pender.
Transform: Ultimately, a relationship with Jesus changes lives. Living in the love that God has for us is a true gift and often times transforms the way in which we live.
---
Upcoming activities for children this summer:
8/1 Virtual Craft: Making a Placemat!
8/8 at 2:30 pm Into God's World: Hike #2
We will meet at 12826 Mt. Royal Lane, Fairfax. (Ellanor C. Lawrence Park)
Scavenger Hunt.
Snack
Bring a friend.
Join us for another walk together in God's world!
"The earth is the Lord's and the fullness thereof, the world and those who dwell therein." Psalm 24:1
8/15, 2:30 pm Building God's Community: Time together!
Story time
Group games. Time with chalk
Snack
Bring a can of food to reach out to our community!
Bring a friend.
"For where two or three are gathered in my name, there am I in the midst of them." Matthew 18:20
---
Photos from VBS 2021
---
From our amazing Bike Rodeo in June 2021:
Pender Children's ministries collaboration with the Fairfax Police Department to promote bike safety and healthy summer activity.
This was open to all age with fun activities.
Even the rain didn't stop our participants as they skillfully negotiated the course set up by the Fairfax Police for our Bike Rodeo on Sunday!
We are created in God's image. We honor Him when we keep our bodies healthy.
Current Activities for Children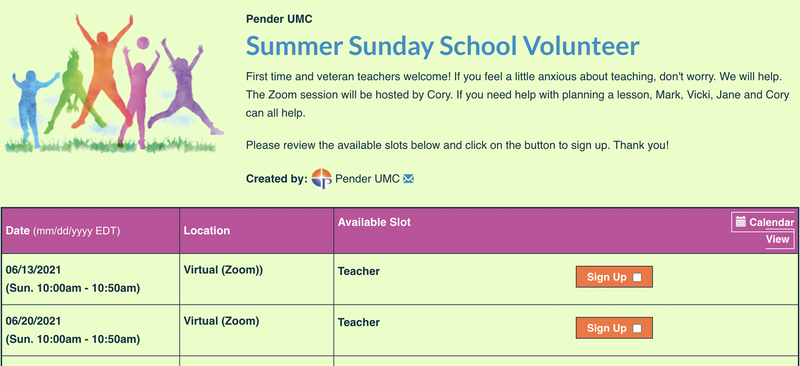 Every Sunday: Sunday School
Children's Sunday School Class meeting on Zoom at 10:15 am.
Every weekday: Pender Hill School
The Pender Hill School is closed for the summer.
More information here:
https://www.penderumc.org/pender-hill-school/
---
Every Friday: Fun with Music
Fun with Music is on hiatus for the summer. Music and fellowship for children (ages 0-5) and their parents and/or guardians. Contact the webmaster for more information.
---
In case you missed it:
Our second "Pender Talk" webinar was February 24, 2021. Dr. K. Drew Baker told us about the difficulties children are facing during this pandemic.
He shared how to help children now, as well as how to help them get ready to go back to school face to face.
---
When we are COVID-free, Pender offers numerous activities for children of all ages:
Sunday worship (All ages!) – At Pender children are encouraged and invited to participate in worship at church.
Sunday School (newborn- 6th grade) – on Sunday morning, at 10:15, we offer Sunday school for children 2 years old through 6th grade. They are in classes with friends that are around the same age as them so they can learn more about God's love together. Their goal is to connect the church and family together to deepen the faith of children!
Sunday Morning Nursery– Babies up to 2 years old are welcome in the nursery during the 9:00 and the 11:15 am service. The nursery provides a warm and loving environment for the children. We also have a pager system to ensure safety and communication with parents. We also have the nursery open during other worship services that Pender offers.
Children's Church– During the 9 :00 service we have a children's message within the service specifically for kids! After this time of learning, children 2 years old through second grade are welcome to go downstairs for Children's church.
Jesus Loves You (JLU) (4th - 6th graders) – On the second Sunday of every month JLU meets and has a time of fellowship, learning, and fun together! They meet from 5-7pm and learn more about God together.
Other Children's Ministry experiences at Pender:
Scouting at Pender
Pender offers various camps throughout the summer for children.of varying ages.
Vacation Bible School (VBS)
(2 years old -6thgrade)
(18 months – 5 years)
Family Events:
Pender is dedicated to having family events throughout the year where the whole family can come and experience God's love and fellowship with others together.
Some of our annual events include:
Movie Nights – Throughout the Year
Cabin Fever Party – February
Easter Event - April
Pender Rocks the Block – September
A Night in Bethlehem – December
Safety
All teachers are required to submit to a thorough background check and complete Child Protection Training. In addition, all teacher helpers must attend training.