In Bethlehem Inn
Saturday, December 11 and 12 at 5:00 pm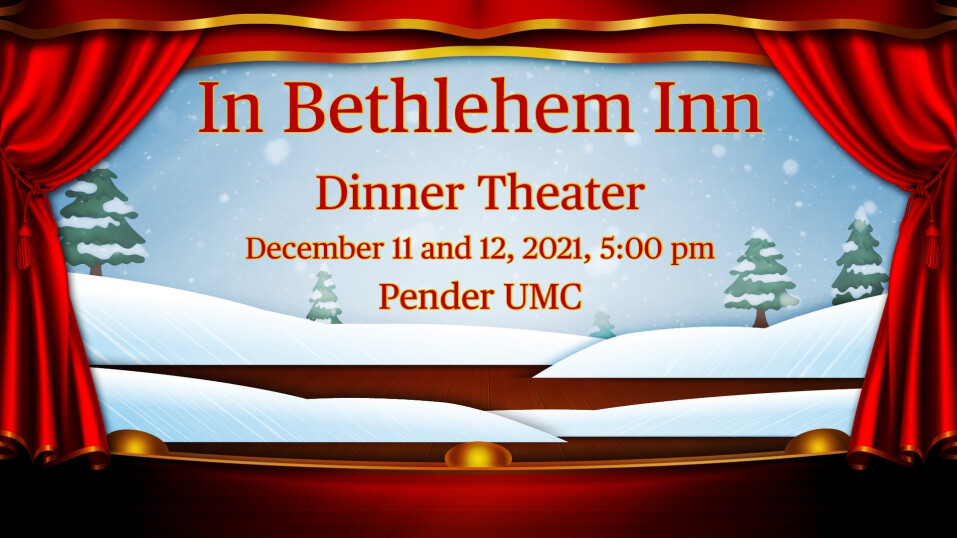 First In Bethlehem Inn, December 11 at 5:00 PM
Get your tickets NOW! All proceeds will be used to support Pender assistance to an Afghan refugee family, FACETS (Hypothermia Shelter), and Layette and Hygiene Kits for the United Methodist Commission on Relief.
The church's newly refurbished Gathering Place will become the Bethlehem Inn!
Come be one of the firsthand observers of the events that occurred on the night Christ was born. The Innkeeper and his family will preside. Be one of the limited number of guests (50 per night) to travel to Bethlehem 2,000 years ago for the census. Be aware though, as our dinner will be interrupted by famous travelers and astral influences. Others will arrive looking for the promised birth of a baby.
There will be music too! Bring your coats as our host asks that we watch a miracle unfold.
Join us for a unique, fun, humorous, and memorable way to experience the Nativity of the Lord.
Participants include: PUMC, teenagers from Fairfax, Chantilly High Schools, Rocky Run Middle School, Boy Scouts of America, and the American Heritage Girls.
Boxed dinners from Jason's will be supplied in a safe, COVID friendly, way. ALL proceeds will be divided equally among the three mission priorities listed above. Ticket sales will be 100 percent direct aid!
---