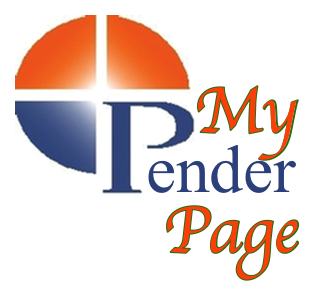 My Pender Page (MPP) is our online forum for the Pender community. It is a very important part of our Pender Website. With a MPP account you can do all these things:
GIVE ONLINE! You can set up a one-time financial gift or recurring gifts.
Securely set up your banking information so that you don't have to re-enter it each time you GIVE ONLINE
View your complete giving record for the current year and last year
See your pledge amounts for the current year, last year and next year (if available) and monitor your status of giving compared to your pledge
Access the church calendar. Add events to the calendar (subject to approval)
Access the church directory
Take a test to determine your spiritual gifts and then look for opportunities to serve using those gifts
Update your personal profile – address, phone, email, family members
Register for events & pay for those that have a fee
And we saved the best for last . . . Put the VERY COOL app on your mobile device. This app lets you make financial gifts through your device & access the church directory. It will even enable you to call someone or get a map with directions to their home with the touch of your finger.
Update personal contact information
Add individual or family photos
Access Church directory
Monitor giving/pledge history
Donate to Pender UMC online
and more!
To use My Pender Page, you will need to an account.
If you already have one, click here to log on.
If you don't have an account, click here to set one up.
If you want to GIVE ONLINE without setting up a My Pender Page, click here ;(but be aware that your banking information won't be saved for the future)