Mobile Giving through the "Realm Connect - For Our Church" App
Download the Realm Connect app through your phone app store

If you have trouble logging in, you will need to reset your password. Please email Office Admin for help
Text PUMC to 73256 to give through your phone.
Bring or mail your checks to:
Pender United Methodist Church
12401 Alder Woods Drive,
Fairfax, VA US 22033
Thank you for your faithful giving, tithing and investment in the work God is doing through Pender UMC. You are transforming lives with the good news of Jesus' love and sacrifice for the world.
How to start?
Always start with prayer. Thank God for your blessings and ask for guidance and discernment.
Take a good look at your income and giving.
Set your giving goal. If you are not currently tithing (giving 10 percent of your income), start with a lower percentage and then plan to increase the percentage each year, growing toward the tithe. The important thing is to begin the spiritual discipline of regular, consistent giving.
Worship with gratitude. Your generosity represents a commitment to God's ministry through our church.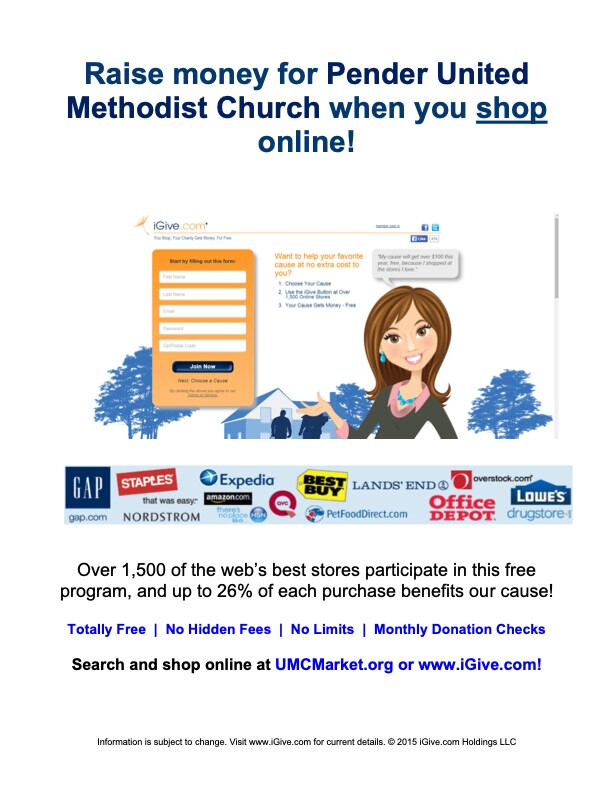 Help Pender every time you shop online, it's all free and so easy to be socially-conscious.
The stores make this possible because they want you to like them and shop at them over and over again. There's 2015 socially-responsible stores helping to make donations happen.
To learn more or sign up now, use this link: https://www.iGive.com/3y9mJsW